DoorTek Continues To Build On A Legacy Of Powerful Software Platforms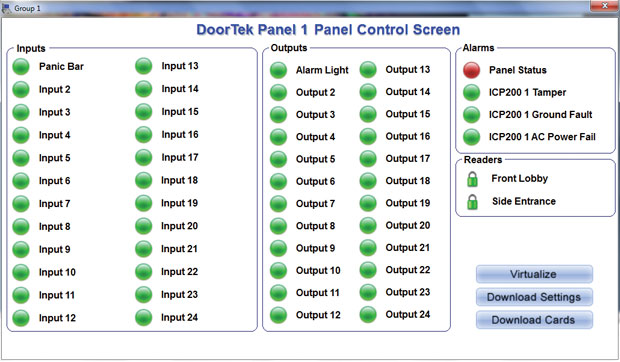 The decades of development that has gone into the DoorTek-IS software shows in the rich set of features, drivers and integration interface options that are offered. Our software is one of the reasons we can be so confident in promising to find a solution for your security needs. You will never encounter a situation where you have to limit your requirements or compromise your security to fit the products we provide. Our entry level software, DoorTek-IS Core is ideal for small to medium access control projects and provides a cost-effective solution that is easy to use and fully expandable to meet your evolving needs. Enhanced features like photo badging, video integration and reader expansion modules can be added as needed allowing you to only pay what you need.
Create a display and control environment that is intuitive, informative and uniquely-suited to your requirements.
Core Features
Access Control
Supports up to 24 readers.
(16 readers standard)
Easy to install wizard driven initial programming. Includes panel configuration, communications, time zones, holidays, access levels, etc. Just add your card holders and go.
Standard card-holder interface.
Any number of access levels can be assigned to a card-holder.
Card search can be customized to search on any field.
Automatic activation and expiration date support.
Multi identity support.
CCTV INTEGRATION
Pre and post event video clip creation.
Standard CCTV user interface.
One click navigation into CCTV platform.
Support of NTSC or IP based video call-up
Core Options
Software Options
Badging Printing / Creation Module
CCTV Drivers: IONIT, Pelco, Bosch, Axis
8 Additional reader capability