DoorTek 301E-IM - Elevator Control Interface Module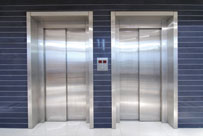 The 301E-IM Elevator Control Interface Module is part of DoorTek's 300-IM Hardware Line. The base module can control a single elevator cab with up to 16 floor selections and can be upgraded to as many as 112 floor selections. The 301E-IM Elevator Control Interface Module can also manage two elevator cabs with the floor count divided between the two elevator cabs (16 floors in the base module, upgradable to a total of 112 floors).
Features
Operation
Low power consumption
Real-time clock for time/date based operation
It's Small foot print PCB allow for combining many interface modules in a small area.
Programming
On-board replaceable lithium battery maintains critical memory for up to two month if all power is lost.
Flash memory for rapid firmware upgrades
Watchdog timer
Auto-detection of new panels.
Auto-configure of new panels.
Automatic Device Assignments.
Automatic Downloads.
Inputs/Outputs
Support for 2 Wiegand or Clock & Data reader
Supports industry standard readers including card and or PIN, proximity, barcode, Smartcard, mag-stripe and others.
Supports up to 29 different card formats (up to 64 bits)
4 Multipurpose Form-C relay outputs
8 Multi-stat inputs configurable for 2. 3, or 4-state supervision
Extensive transient protection for better reliability
Removable screw-down terminal blocks
Communications
Supports up to 32 modules (301-IM, 303-IM, or 305-IM) on a multi-dropped single comm line or TCP/IP connection .
High baud rate RS485 Communication